Charles Babbage's Calculating Machine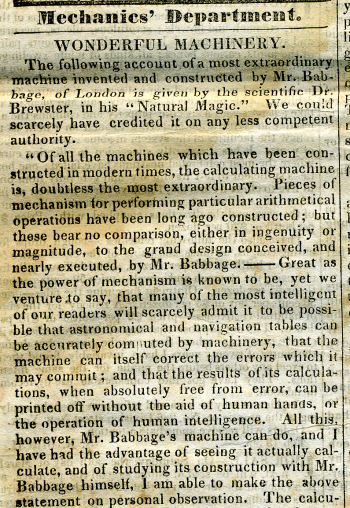 WONDERFUL MACHINERY.
This article describes in some detail the eye-witness account of a *working* machine: "...the greater part of the calculating machine is already constructed....I have had the advantage of seeing it actually calculate, and of studying its construction with Mr. Babbage himself..."
Does this account describe a working computer? To help make this determination I would want to learn more about the error checking capability of this machine, which I assume was used for calculation of significant digits. Babbage's calculating machine could be described as a computer component, at least. I believe that this article reports the closest Babbage got to a actual working computer. Or just an elaborate calculator. There are no references in the article to what we today would identify as punch cards or programming.
Download the PDF and read for yourself. The article describes error checking and how results are viewed and how log tables could be calculated accurately, for use in astronomy. The article noted that regarding the printer "..less progress was made...".
In the 1830's news from Europe would take a few weeks to reach New York, as boat was the only cross-Atlantic communications. Most articles in the paper refer to end of December 1832 events, including the account of the Calculating Machine.
Overall there was a lack of contemporary articles about Babbage's calculating machine in 1832-35. I was able to find just the one often quoted article by D Lardner: "Babbage's Calculating Engines" from the Edinburgh Review 59 (1834) pg 263-327. The New York Weekly Messenger article above was printed a year prior, making it among the first known articles about Babbage's calculating machine. The apparent lack favorable press and the loss of funding in 1834 obscured the fact that the machine had a working visual "display" and was probably more complete than people realize. Was the calculating machine programmable? Maybe. Most writings about the Babbage projects were published a generation afer the project was cancelled and I don't think that it's possible to discount the notion entirely.
Comments?
.
Closing in on the Apple Lisa 25th Birthday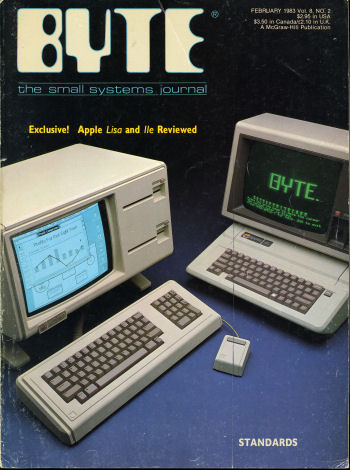 The feature article from this issue was titled "
The Lisa Computer System
." Author Gregg Williams wrote:
Performance
"..The Apple Lisa was faster than I remembered a similar machine being (an experimental Xerox machine running Smalltalk) and faster than I expected it to be. Granted, a 68000 microprocessor is in the computer, but it was being asked to do a lot - including the manipulation of 32K bytes of video-display·memory. Objectively, I must report some delays (30 seconds, maybe) when loading in files, but these were shorter than what I usually encounter using CP/M-based business programs. In any case, I didn't notice any delays while actually using a given program, which is where you spend most of your time, anyway. I expect that the Lisa computer you'll see in Apple showrooms will be slightly faster than the one I saw.
Conclusions
As you can tell, I am very impressed with the Lisa. I also admire Apple for deciding to make the system without being unduly influenced by cost or marketing constraints. The Lisa couldn't have been developed without such a deep commitment, and no other company I can think of could afford such a project or would be interested in doing it this way (the Lisa project reportedly cost over $50 million and used more than 200 person-years of effort!). In terms of the actual, as opposed to symbolic, effect it will have on both the microcomputer and the larger-computer market, the Lisa system is the most important development in computers in the last five years, easily outplacing IBM's introduction of the Personal Computer in August, 1981.
As this went to press, Apple announced that the Lisa will be sold in one configuration only: the computer with 1 megabyte of RAM, two floppy-disk drives, the Profile hard disk, the six application programs (Lisa Draw, Lisa Write, Lisa Project, Lisa Calc, Lisa List, and Lisa Graph), and Lisa Test diagnostic program; the price of this package is $9995; it will be available in the U.S. this spring, and modified foreign-language versions will be available this summer.
Fortunately for us, the history of computing does not stop with the Lisa. Technology, while expensive to create, is much cheaper to distribute. Apple knows this machine is expensive and is also not unaware that most people would be incredibly interested in a similar but less expensive machine. We'll see what happens."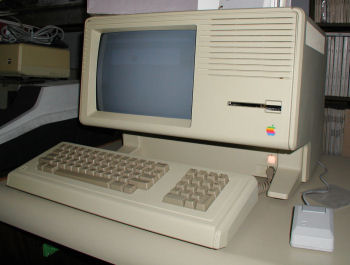 More Pictures
1985 cordata PPC
Here's a rare one...The CorData Technologies, Inc. Cordata PPC computer. The logo looks similar to the Corona Data Systems' logo, but there's no reference to this model within the Corona catalog. Maybe they changed their name late in the game?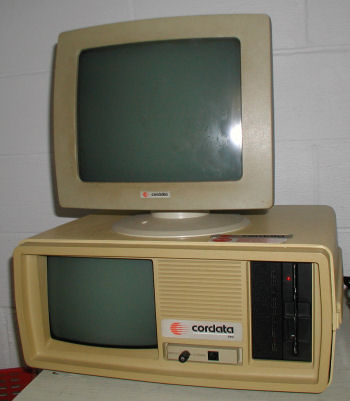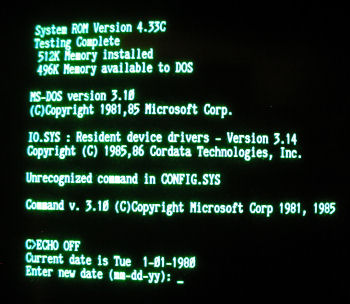 If you know more about this computer or company,
please share your knowledge
.
Toshiba 3100SX and T3200SX Laptops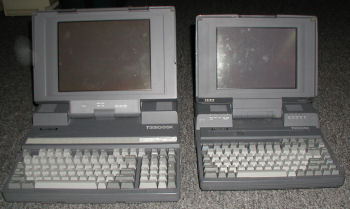 I have a Toshiba 3100SX and a T3200SX laptop that do not boot to their harddrives. The 3200 has a power supply problem, the 3100 has a hard drive problem. I believe that they're salvageable, but I am not overly interested in them.
Contact me
if you want them cheap.