On the Work Bench - Jan 2007
These are some of the computers and things that I am currently working on, or have recently picked up. Check my
Vintage Computer Blog
for updates, or post your questions.
Dbase II on Commodore BX700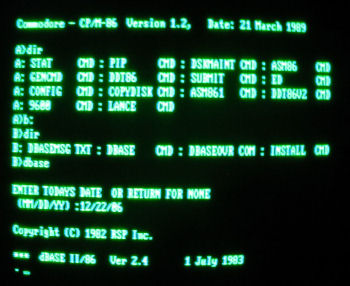 I have a prototype Commodore BX700 with a 8088 co-processor card. For the first time I was able to load Dbase II on this system.
View Blog
.
California Technology International
A California Technology International 1108-A with built-in
Exatron Stringy Floppy drive
. I opened the unit, and the system is full of Z80 family chips and associated IC's, which I expected, because of the stringy floppy. The keyboard keys all appear to work. I did the standard re-seating of chips, etc, but I have not spent too much time on the system. There appears to be some kind of internal floppy or cassette port. Other than the stringy floppy drive, there are no other external ports. The system is from 1979.
View Blog
.
Xerox 820 II CP/M disks available
I just successfully created two boot disks for a Xerox 820 II. CP/M 2.2C. I have tested the process, works. Contact me if you're attempting to restore a Xerox system and need a boot disk. Copies are for restorative purposes only, only where permitted by law, educational use only, and so on. I have an extra manual as well, for a fair $$. I will put up pics of the system when I have the chance.
View Blog
.
AT&T 7300 / 3b1 with a DOS co-processor
Just got an AT& T 7300 / 3b1 with a DOS co-processor card. I have a new set of DOS-73 system diskettes AT&T UNIX PC Model 7300 ver 1.00, and a DOS-73 diagnostic. Matching manuals. Cleaned unit, does not power on. Fuse is OK.
View Blog
.
Northstar Horizon S-100 Computer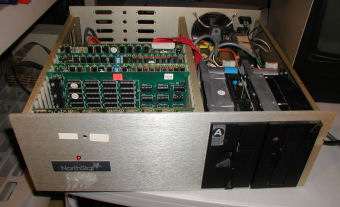 Both disk drives work. I have many different iterations of OS boot disks including NSOS and CP/M and more. Word Star, Microstat, The Last Word, etc. Will post a complete list at some point.
More pics
.
IBM PC BASIC Programs
Enjoy these public domain BASIC programs for the IBM PC/XT